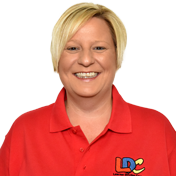 About me
Hi I'm Sarah, I am a fully qualified Government Approved Driving Instructor (ADI) and I am passionate about road safety.
I have spent several months completing the same tests as a new learner driver however with more stringent expectations so I do know exactly how you as a learner driver can feel overwhelmed with the learning curve of something new.
My previous employment has been spent within the financial services sector. Recent events gave me the opportunity to take redundancy so, I decided on a career which I just knew would not just give me a huge sense of achievement but for all of you who embark on the "learning to drive" journey.
I chose to work with LDC because their training is what I considered to be the best, allowing you as an individual to learn to drive safely at your own pace and with no pressure from me. A workbook is available for you to complete and assess your own performance and for you to decide what topic you want to do next.
Lessons will always be conducted in a calm, friendly and relaxed manner as I firmly believe in making you feel at ease during your lesson. I aim to make every lesson as enjoyable and as productive as possible and the LD system will help you and me do this more effectively.
Well I hope this gives you a brief idea about me so please feel free to click here to "Contact me"